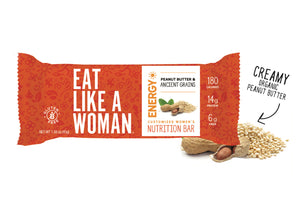 Peanut Butter & Ancient Grains, 12-Pack
Sale price Price $ 39.99 Regular price
Coming SOON!
Enjoy creamy peanut butter goodness with a delicate combination of ancient grains, organic quinoa, chia seeds  and ground flaxseeds.

Eat Like a Woman® Peanut Butter & Ancient Grains 12-pack 
Energy metabolism is different between women and men. The correct food ratios can fuel ENERGY!  

This Peanut Butter and Ancient Grain ENERGY Bar recipe massages food ratios to support performance for women during exercise, and contains quinoa, a plant protein with all nine essential amino acids.  14 grams of protein and 6 grams of fiber.  This 180-calorie bar is the perfect ENERGY snack for the busy woman-on-the-go.
Women burn carbs and fats before protein during endurance activities.  
Functional nutrition bars
Soft & Chewy
Gluten-Free
Dairy-Free
Soy-Free
Plant-based ingredients
No sugar alcohols
Ancient grains have remained largely unchanged for hundreds or even thousands of years. Quinoa was known to the Incas as "the mother of all grains" and was first cultivated over 5,000 years ago.
Quinoa is one of only a few plant foods that are considered a complete protein, containing all nine essential amino acids.

Packed with plant based protein and full of fiber from ground flaxseed.

This bar is a great way to start your day right, or enjoy before working out, and when you need an afternoon energy pick-me-up!

Be WELL, and eat like a woman!
Made for women, but men love them too!

See Ingredients and Nutritional Information in photos under the product image.

FREE SHIPPING USA only, orders over $75 in your check-out cart, ground service.  
All orders placed after 12 noon EST Friday that request over-night or 2-day shipping will be shipped the next Monday. 
During summer shipping months: 
It is always best to be home or have someone available to receive your bar package after the summer weather transit, so you can place them in the refrigerator and enjoy the next day.  
 NOTE:  We make our products with REAL, WHOLE INGREDIENTS.  Our almond and peanut butters are FRESHLY pressed peanuts or almonds nothing else, just nuts.  Sometimes those natural oils separate in transit depending on the weather...they are still GREAT to eat!! So if they feel a little oily or those natural oils harden in cold weather, this is normal for FRESH products using the old style of making nut butters.  We are proud of our REAL food products, enjoy!!