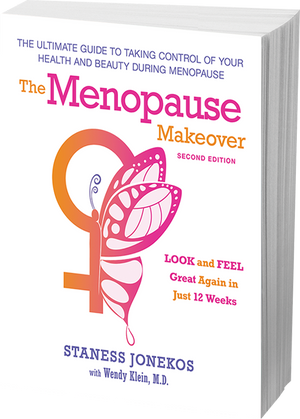 The Menopause Makeover®, the BOOK
Sale price Price $ 24.99 Regular price
The Menopause Makeover®: The Ultimate Guide to Taking Control of Your Health and Beauty During Menopause

Hot flashes and sleepless nights? Feeling anxious and irritable? Feel like you're losing your mind? Frustrated with weight gain? It's time for a makeover—a menopause makeover!

Staness Jonekos knows all too well how you feel. Leading up to her wedding day at the age of forty-seven, she was sporting a not-so-sexy belly bulge, suffering from hot flashes and feeling in no mood for a honeymoon. Jonekos took drastic action and created the first-ever menopause makeover to get back into that little white dress and feel sexy again in just twelve weeks. Now she joins forces with leading menopause expert Dr. Wendy Klein to give you the relief you need, fast! Based on the latest scientific research, and designed for both pre- and post-menopausal women, The Menopause Makeover is a proven, eight-step program to help you reclaim your health—and your life.

• Evaluate if hormone therapy is right for you

• Beat belly bulge with The Menopause Makeover food pyramid and recipes

• Tone up and trim down with The Menopause Makeover fitness formula

• Boost your libido and learn to love intimacy again

• Regain your vibrant, youthful glow with essential beauty tips

• Manage stress and get off the mood-swing roller coaster

• Stay motivated with self-assessments and tools to track your progress
Menopause can be a frustrating life stage to navigate, but with a plan it is possible to take control of your health.  
Book available on AMAZON