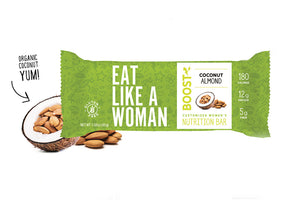 Coconut Almond BOOST Bar 12-Pack
Sale price Price $ 39.99 Regular price $ 33.99
COMING SOON!
This Coconut Almond nutrition bar explodes with gluten free yumminess for a decadently delicious snack.

Eat Like a Woman® Crunchy Coconut 12-pack 
The

Coconut Almond BOOST Bar

harnesses the delicious, appetite-appeasing power of coconut and almond.  It has 12 grams of protein with 5 grams of fiber and only 180 calories.  This bar is a tasty BOOST anytime of the day.
Gluten-Free
Functional nutrition bars
Soft & Chewy
Dairy-Free
Egg-Free
Soy-Free
Plant-based ingredients
No sugar alcohols
No artificial colors
No cholesterol
No trans fat
Kosher
Real-food ingredients
Coconut has been a staple of many cultures, and coconut oil has naturally occurring saturated fat that can actually be good for you in moderation. Research claims it may improve health, increase metabolism, promote a lean body, and support the immune system .  
The medium chain triglycerides in coconut oil have been shown to increase calories burned over 24 hours by as much as 5%, potentially leading to weight loss over the long term.
Emerging evidence shows almonds may actually improve digestion by changing the environment of your intestinal tract for the better.
Studies, such as the Nurses' Health Study, show that almonds support a healthy metabolism. People who frequently eat almonds and other nuts retain healthier body weights and lower rates of obesity over time compared to those who avoid nuts.
Women metabolize food and lose weight very differently than men. The Eat Like a Woman® ingredients provide lasting energy for women-on-the-go who demand yummy guilt-free nutrition.

These gluten-free coconut almond nutrition bars are full of fiber from ground flaxseed.

Be WELL, and eat like a woman!


See Ingredients and  Complete Nutritional Information in photos under the product image.


FREE SHIPPING USA only, orders over $75, ground service.  
*This offer does not apply to AMAZON orders.
All orders placed after 12 noon EST Friday that request over-night or 2-day shipping will be shipped the next Monday. 
During summer shipping months: 
It is always best to be home or have someone available to receive your bar package after the summer weather transit, so you can place them in the refrigerator and enjoy the next day.  
NOTE:  We make our products with REAL, WHOLE INGREDIENTS.  Our almond and peanut butters are FRESHLY pressed peanuts or almonds nothing else, just nuts.  Sometimes those natural oils separate in transit depending on the weather...they are still GREAT to eat!! So if they feel a little oily or those natural oils harden in cold weather, this is normal for FRESH products using the old style of making nut butters.  We are proud of our REAL food products, enjoy!!