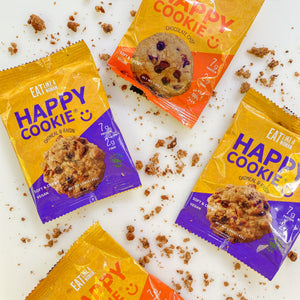 Happy Cookie® 12-pack Sampler, 2 Flavors
Sale price Price $ 41.99 Regular price
Happy Cookie®  Sampler 12-pack, 2 flavors! 
Includes:
6 Oatmeal Raisin
6 Chocolate Chip
VEGAN, gluten-free, no dairy, no eggs, no sugar alcohols, no soy, no trans fat, no cholesterol, 7 grams of plant-based protein, 2 grams of fiber, and only 190 calories!!  

These gourmet cookies are handmade with homemade taste! Soft and chewy 😋😋😋
Enjoy these baked Happy Cookies®
Eat Like a Woman® Happy Cookie® 8-pack, 4 Oatmeal Raisin + 4 Chocolate Chip Happy Cookies
Vegan

Gluten-Free

No Soy

No Dairy

No Eggs

No Cholesterol

No Trans Fat

No artificial sweeteners

BE HAPPY!
Made with REAL PLANT-BASED food ingredients! 
Our recipe has a custom blend of tryptophan-rich ingredients.
The body uses tryptophan to produce serotonin, our "HAPPY hormone" which regulates mood. 
Tryptophan is one of the nine essential amino acids supplied by diet, whose metabolism appears as a key modulator of gut microbiota.
Did you know ... Bacteria such as Escherichia coli (a friendly inhabitant of our gut) need amino acids to survive—because they need to build proteins. One of the amino acids needed is tryptophan.
If tryptophan is available in the environment, E. coli will take it up and use it to build proteins.*
Tryptophan is found in lots of protein-rich foods, like dairy, nuts, and beans. Now scientists think it may play a key role in healthy guts.
The best tryptophan foods are likely those found in plants. Unlike animal products, plants are rich in anti-inflammatory benefits, healthy fats, fiber, and antioxidants.
This Happy Cookie® is a great way to start your day, enjoy after a workout, or a mid-afternoon boost.  Easy to travel with these individually wrapped cookies.
BE HAPPY!!
Nutrition Facts: see photos for nutritional labels and ingredients
8 individually wrapped cookies (4 of each flavor)

Made for women, but men love them too!

The ORIGINAL HAPPY COOKIE since 2016!
YUMMY TIP:  Take cookie out of package and place on a paper towel in the microwave for 10-15 seconds (make sure the cookie is not too hot before eating, all microwaves vary).   Tastes like you just baked it, so yummy with soft chocolate chips. 
FDA compliant manufacturing in a KOSHER, and Gluten-free 3rd-party tested. 
*For more information on the above reports