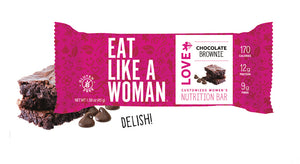 Chocolate Brownie LOVE Bar 12-Pack
Sale price Price $ 39.99 Regular price
Coming back SOON!
Delicious dark chocolate with oh-so-yummy healthy ingredients. 

Eat Like a Woman® Chocolate Brownie 12-pack 
The
Chocolate Brownie LOVE Bar

is loaded with healthy ingredients that are high in Omega-3s.  
Enjoy our real-food ingredients like chia seeds, dairy-free organic chocolate chips, ground flaxseeds, organic almond butter, and organic 70% cacao.
This decadent bar provides 9 grams of fiber and 12 grams of plant-based protein and only 180 calories.
Diets low in saturated fat and cholesterol, and as low as possible in trans fat, may reduce the risk of heart disease.
Gluten-Free
Functional nutrition bars
Soft & Chewy
Dairy-Free
Egg-Free
Soy-Free
Plant-based ingredients
No sugar alcohols
No artificial colors

No cholesterol

No trans fat

Kosher
Real-food ingredients
Cacao, the plant from which chocolate is made, is rich in flavanols and also acts as an antioxidant.
The super powers of cocoa contains hundreds of compounds that also boost endorphins and serotonin, two of the best-known chemicals that are responsible for making us feel happy!
Almonds are a great snack and can satisfy hunger.
These healthy nutrition bars are packed with plant protein, and full of fiber from flaxseed and chia seeds.

It is the perfect treat with a cup of java in the morning or for a mid-afternoon.  Or indulge for a tasty treat after dinner.

Be WELL, and eat like a woman!

Made for women, but men love them too!

See Ingredients and Complete Nutritional Information in photos under the product images.
FREE SHIPPING (USA only) orders over $75 in your check-out cart, ground service.  
*This offer does not apply for AMAZON orders. 
All orders placed after 12 noon EST Friday that request over-night or 2-day shipping will be shipped the next Monday. 
During summer shipping months: 
It is always best to be home or have someone available to receive your bar package after the summer weather transit, so you can place them in the refrigerator and enjoy the next day.  
NOTE:  We make our products with REAL, WHOLE INGREDIENTS.  Our almond and peanut butters are FRESHLY pressed peanuts or almonds nothing else, just nuts.  Sometimes those natural oils separate in transit depending on the weather...they are still GREAT to eat!! So if they feel a little oily or those natural oils harden in cold weather, this is normal for FRESH products using the old style of making nut butters.  We are proud of our REAL food products, enjoy!!