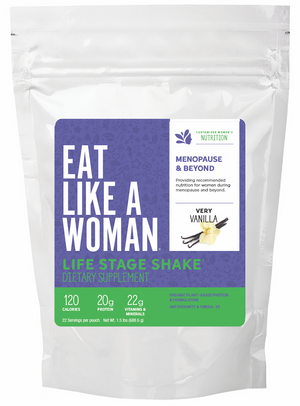 Life Stage Shake™ MENOPAUSE & BEYOND, 1.5 lbs. 22 servings
Sale price Price $ 45.99 Regular price
Coming SOON!

Women have very different life stages than men, and each has unique nutritional needs. Celebrate YOU at each LIFE STAGE!

LIFE STAGE SHAKE™ for MENOPAUSE & BEYOND. Providing recommended nutrition for women from menopause and beyond*

22 servings, get your daily nutrients in one shake.

Life Stage Shake™, $43.99

Daily nutrition in ONE shake
20 grams of organic certified and patented plant-based protein that absorbs better over time than animal based whey protein, and provides complete amino acid profile.
Use as a meal or healthy snack
120 calories
22 Vitamins & Minerals
Organic Plant-Based Protein & Formulation
Antioxidants & Omega-3s
Metabolism booster
Curbs hunger & cravings
Patented Probiotic GanedenBC30
Supports digestive and immune health
Supports protein utilization
Antioxidants

Directions: Add 1 scoop of Life Stage Shake™ in 8-10 fluid ounces of your favorite cold beverage (almond milk, rice milk, coconut milk, milk or water) and shake in a shaker bottle or use a blender. If using a blender add ½ cup of ice and fruit to make a delicious smoothie.

More shake RECIPE ideas, click here.


No artificial colors, flavors or sweeteners.

See Nutritional Face Panel for Complete Nutritional Information in photos under the product image. 

Ingredients: Organic Pea Protein, Organic Rice Protein, Organic Vanilla Flavoring, Vitamin & Mineral Blend, White Chia Seed Powder, Organic Stevia 97%, Reb A, Bacillus coagulan GBI-30, 6086 (GanedenBC30)






Store in a cool, dry place.
FREE SHIPPING USA only, orders over $50, ground service.  
All orders placed after 12 noon EST Friday that request over-night or 2-day shipping will be shipped the next Monday.